Singulair, a brand-name version of Montelukast, is available by prescription in doses form in different strengths. Singulair is a medication used in the maintenance treatment of asthma. It is generally less preferred for this use than inhaled corticosteroids. You can save on brand name and generic Singulair by filling prescriptions online at our Online Pharmacy.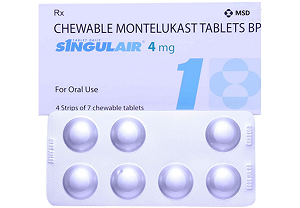 Select your dosage
Rx Prescription Required
Singulair (Montelukast)
4mg
Check Prices
Product of Turkey
Manufactured by Sanofi
Product of Canada
Manufactured by Merck Inc
Product of India
Manufactured by Merck Sharp & Dhome
Product of United States
Manufactured by Product of USA
Product of Canada
Manufactured by JAMP PHARMA CORP
Product of India
Manufactured by Cipla Limited
Singulair (Montelukast)
5mg
Check Prices
Product of Turkey
Manufactured by Sanofi
Product of Canada
Manufactured by Merck Inc
Product of India
Manufactured by Merck Sharp & Dhome
Singulair (Montelukast)
10mg
Check Prices
FREQUENTLY ASKED QUESTIONS (FAQs):
Why Singulair is prescribed?
Singulair (Montelukast) helps in preventing difficulty breathing, wheezing, coughing and chest tightness that is cause by asthma. Besides, it is also used to prevent breathing difficulties while exercising, and in treating symptoms of seasonal and perennial allergic rhinitis. The medicine helps by blocking the action of substances that causes the symptoms of asthma and allergic rhinitis. Generic Singulair is easily available at your nearest pharmacy.
How to use Singulair?
Available in tablet, chewable tablet and granules, Singulair is taken with or without food once a day. In asthma, the medicine should be taken in the evening. In treating breathing difficulties during exercise, take this medicine two hours prior to exercising. In the treatment of allergic rhinitis, the medicine can be taken any time in the day.
What if I miss the dose of medicine?
If you miss a dose, take it as soon as you remember; however, skip the missed dose if it's already time for the next dose. Do not take more than one dose of this medicine in a 24 hour period.
What are the side effects Singulair?
Mild to severe side effects of taking Singulair (Montelukast) include dizziness, tiredness, stomach pain, headache, heartburn, swelling of face, throat, hands or feet, difficulty breathing or swallowing, hives, rash, hoarseness, flu-like symptoms, etc.
What are the safety/warnings/precautions for Singulair?
Tell your doctor if you are planning to take other medicines or supplements or if you are allergic to any medicine.
Also, if you are pregnant, breastfeeding or planning to get pregnant inform your doctor. Share with your doctor if you have or have ever had liver disease.
If you decide to buy Singulair online, beware of the cheap discount Singulair, as it may not be of a very good quality.
Take a note that your mental health may change unexpectedly while on this medicine.
Is there a Generic Singulair available?
Yes, the generic equivalent to Singulair: Montelukast is available.
Can I buy Singulair without prescription?
No, a valid prescription is required for this medication.
Montelukast Discount Coupon and Saving Tips
We have exclusive Montelukast Coupon that can be used at checkout to get exclusive discount on Singulair prescription, If you any problem on placing order with us, Kindly use Live chat feature or call +1 888 414 6679.
Important
HOW TO USE THIS INFORMATION: This is a summary and does NOT have all possible information about this product. This information does not assure that this product is safe, effective, or appropriate for you. This information is not individual medical advice and does not substitute for the advice of your health care professional. Always ask your health care professional for complete information about this product and your specific health needs.