Janumet (Sitagliptin/Metformin)
Janumet, a brand-name version of Sitagliptin / metformin, is available by prescription in tablet form in different strengths. Janumet is a fixed-dose combination anti-diabetic medication used to treat type 2 diabetes. It may be used in those whose blood sugar is not controlled with metformin and a sulfonylurea. You can save on brand Janumet by shopping online at our Online Pharmacy.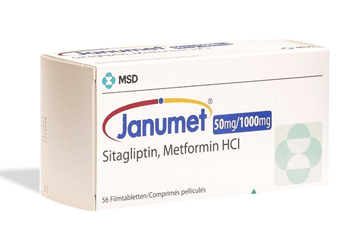 Select your dosage
Rx Prescription Required
Janumet (Sitagliptin/Metformin)
50mg/500mg
Check Prices
Janumet (Sitagliptin/Metformin)
50mg/850mg
Check Prices
Product of Turkey
Manufactured by Bilim
Product of Canada
Manufactured by Merck & Co
Janumet (Sitagliptin/Metformin)
50mg/1000mg
Check Prices
Janumet (Sitagliptin/Metformin)
100mg/1000mg
Check Prices
Product of Canada
Manufactured by Merck & Co
Product of India
Manufactured by Merck Sharp & Dhome
FAQs:
What is Janumet used for?
It is prescribed to control high blood sugar levels in adults with type 2 diabetes. The presence of Sitagliptin helps to control the level of blood sugar. It increases the substances that help in releasing more insulin in the pancreas. On the other hand, Metformin not only lessens the assimilation of sugar present in the stomach but also keeps a check on the stored sugar release to help the use of sugar better in the body.
The combination of Metformin and Sitagliptin falls under the brand name Janumet. It is given to individuals with type 2 diabetes. If consumed along with exercise and a healthy lifestyle can help lower blood sugar level. The tablet is advised once or twice daily by your doctor as per your health condition. Its JANUMET XR tablets include sitagliptin and metformin for extended-release.
How should Janumet medicine be used?
The medicine is consumed by mouth, as advised by the doctor it is ideally taken twice in a day with meals. It is said to take ample of fluids before taking the dose. As suggested by the manufacturer, the medicine should not be cut or broken while consuming. Always, follow doctor's guidance to take this drug.
What if I miss the dose of Janumet?
In case you have missed on your dose then try taking it as soon as possible. Don't take two doses at the same time, try and monitor your blood sugar levels.
What are the side effects of Janumet ?
The presence of Metformin in JANUMET can lead to a condition called lactic acidosis. Always keep a check on the following side effects of the medicine:
Your hands or feet may feel cold
Dizzy or light-headedness can be felt
You might feel pain in stomach, vomiting or nausea
Breathing issues can be felt
There can be an unusual (not normal) muscle pain
A change in the heartbeat (slow or irregular) may be felt
The usage of Janumet with other drugs may enhance the safety of metformin-related to lactic acidosis, for example, it may interfere with the balance of acid-base or may boost the accumulation of metformin. Hence, monitoring of the patient is required.
Consumption of alcohol is prohibited while taking Janumet as alcohol increases the effect of metformin on lactate metabolism. It is advised to warn patients against excessive alcohol intake.
Is Generic available for Janumet?
No, currently there is no medically equivalent version of Janumet offered in the United States. Also, be sure that online pharmacies may try to sell an illegal version of it. Whenever you purchase a medicine online make sure that you buy it from an authentic drug store.
Can I buy Janumet without prescription?
No, a valid prescription is required for this medication.
It is suggested to store Janumet at 68°F to 77°F (20°C to 25°C) in a dry place. Also, keep it out of the reach of children and pets.
HOW TO USE THIS INFORMATION: This is a summary and does NOT have all possible information about this product. This information does not assure that this product is safe, effective, or appropriate for you. This information is not individual medical advice and does not substitute for the advice of your health care professional. Always ask your health care professional for complete information about this product and your specific health needs.
---