Combivir (Lamivudine / Zidovudine)
Combivir, a brand-name version of Lamivudine/zidovudine, is available by prescription in tablet form in different strengths. Combivir is a fixed-dose combination antiretroviral medication used to treat HIV/AIDS. It contains two antiretroviral medications, lamivudine and zidovudine. You can save on brand name and generic Combivir by filling prescriptions online at our Online Pharmacy.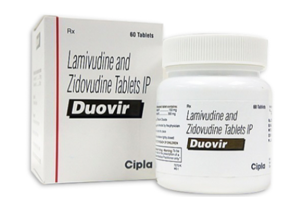 Select your dosage
Rx Prescription Required
Combivir (Lamivudine / Zidovudine)
150mg/300mg
Check Prices
Product of Turkey
Manufactured by GlaxoSmithKline
Product of Canada
Manufactured by VIIV HEALTHCARE INC
Product of Canada
Manufactured by AURO PHARMA INC
Product of India
Manufactured by Cipla Limited
FAQs:
What is Combivir used for?
Combivir helps the body to prevent HIV infection along with other medications. This reduces the growth and spread of the virus thus making the immune system better and decreases other HIV complications like new infections or cancer and improving the quality of life.
Combivir is not a cure for HIV. However, it provides the body's immune system a better chance to lessen the infection and future outbreaks from the same. The treatment should begin at the first sign of symptoms. It is most effective if treated on time.
How should Combivir medicine be used?
Combivir can be consumed with or without food. Water can ease consuming!!
Read carefully the medication guide provided by the pharmacist before starting Combivir (Lamivudine and Zidovudine) for treatment. This medication must be taken as directed both in terms of amount (how much) and duration (for how long). The dose may differ depending on the person's medical history. The symptoms may decrease before the infection has completely cleared. The recommended dose should be consumed even if symptoms improve. Also, it is advised to drink lots of water to reduce the chances of side effects.
What if I miss the dose of Combivir?
If in case you have missed a dose of Combivir try to take it as soon as possible. However, if it is already time for your next dose then skip the missed one and continue as per the regular schedule. Do not take the double dose to make up for the missed one as it can hamper with the treatment effect in a negative way.
What are the side effects of Combivir ?
Combivir may cause some unwanted effects like:
Headache
Nausea
Stuffy nose
Vomiting
Dizziness
Fatigue and sleeplessness
Loss of appetite
Anxiety
The drugs which may interact with Combivir are the ones that cause kidney problems such as ibuprofen or naproxen. Also, the drugs that suppress bone marrow production of blood cells increase the effect of zidovudine on the production of blood cells. It is always advisable to tell the doctor about what medications/supplements (including prescription/non-prescription) you have been taking before starting on Combivir medication.
Any current or previous allergies you have.
Tell your doctor about your medical history especially if anything related to kidney, human immunodeficiency virus infection (HIV), or acquired immunodeficiency syndrome (AIDS).
These infections are highly contagious so should be kept covered as much as possible.
Do not do anything that requires alertness after consuming this drug as it can make you dizzy or drowsy.
Alcohol should be avoided or limited to an extent.
Is Generic available for Combivir?
Yes, Generic equivalent version of Combivir, Lamivudine and Zidovudine is avialble in the market.
Can I buy Combivir without prescription?
No, a valid prescription is required for this medication.
HOW TO USE THIS INFORMATION: This is a summary and does NOT have all possible information about this product. This information does not assure that this product is safe, effective, or appropriate for you. This information is not individual medical advice and does not substitute for the advice of your health care professional. Always ask your health care professional for complete information about this product and your specific health needs.