Serevent Inhaler (Salmeterol)
Use only long-term asthma treatments if your existing ones fail to control your symptoms (such as inhaled corticosteroids). By relaxing the muscles around your airways, Serevent (Salmeterol) makes it easier for you to breathe. Additionally, it protects against asthma brought on by exercise (bronchospasm).
It is a long-term (maintenance) medication intended to reduce or lessen wheezing and breathing issues brought on by asthma or chronic lung conditions (chronic obstructive pulmonary disease-COPD, which includes chronic bronchitis and emphysema).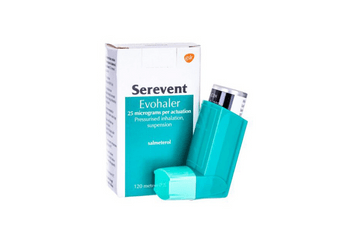 *Product images are for reference use only
Select your dosage
Rx Prescription Required
Serevent (Salmeterol)
25mcg
Check Prices
Brand Serevent Inhaler 25mcg (21mcg)
Product of New Zealand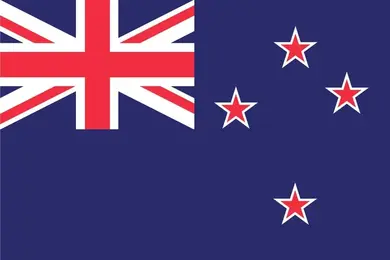 Manufactured by GlaxoSmithKline
FREQUENTLY ASKED QUESTIONS (FAQs):
Why is Serevent Inhaler prescribed?
The bronchodilator Serevent (Active Ingredient: Salmeterol) is a long-acting beta2-adrenoceptor agonist (LABA). It functions by assisting the muscles that surround your lungs' airways in remaining relaxed to promote breathing.
Exercise-induced bronchospasm or asthma episodes are prevented by Serevent. Emphysema and chronic bronchitis are among the chronic obstructive pulmonary diseases (COPD) that are treated with it.
A rescue inhaler (an inhaler with drugs usually taken in asthmatic attack) cannot be used in place of Serevent Inhaler to treat abrupt breathing issues.
Uses of Serevent Inhaler:
As a long-term (maintenance) medication, Serevent is used to prevent or lessen wheezing and breathing difficulties brought on by asthma or persistent lung diseases (chronic obstructive pulmonary disease-COPD, which includes chronic bronchitis and emphysema).
It should only be used long-term if your existing asthma drugs are unable to control your symptoms (such as inhaled corticosteroids).
To help you breathe more freely, Serevent relaxes the muscles that surround your airways.
It is advised that young children and adolescents who must take Serevent to treat their asthma should use a combination drug : Serevent (Salmeterol) with Fluticasone.
Side Effects of Serevent:
Common side effects of Atrovent Inhaler include:
Hoarseness
Cough and dry mouth
Upset stomach
Raised Blood Pressure
Chest pain and Fainting
Rare Allergic reaction like rashes or itching
Serevent Dosage:
Twice daily. Should not exceed twice daily.
One inhalation should be taken 30 minutes prior to activity; a second dose shouldn't be taken for another 12 hours.
How to use Serevent Inhaler?
Use this device in a level, horizontal position at all times.
Use this medication as prescribed by your doctor, often twice daily, in the morning and evening (12 hours apart).
Never wash the device's mouthpiece or any other component.
Wait at least one minute between each inhaler use if you are also using other inhalers.
You must stop using a quick-relief inhaler on a regular basis (such as four times per day) and only take it when necessary for asthma episodes or abrupt shortness of breath.
Drug Interactions of Serevent:
In addition to Serevent, several other medications may influence the cardiac rhythm. Some of them are Darunavir, Fosamprenavir, Indinavir, Lefamulin, Lopinavir, Nelfinavir, and Ritonavir, etc.
Serevent Precautions:
Several precautionary measures to be taken if one suffers from:
Thyroid issues
High blood pressure
Diabetes
Liver issues
Angina
Irregular heartbeat (such as overactive thyroid)
Safety and Storage:
Never attempt to disassemble or clean the device.
After the dose indicator reads zero or six weeks have passed since you removed it from the foil bag, whichever comes first, throw it away. 60 dosages are contained in each device.
Keep at room temperature and out of the sun, heat, and moisture.
Serevent Inhaler Cost:
For a supply of 1, 60 aerosol powder of Serevent Inhaler, prices range from $550 to $600, depending on the drugstore you visit. The cost of Serevent varies at local pharmacies and online pharmacy platforms due to variable factors. One can easily obtain Serevent Inhaler from OffshoreCheapMeds. It is a steadfast and reliable online pharmacy store which provides its facilities round the clock.
How to lower long term Serevent Inhaler Cost?
The Serevent Inhaler is an inhaled medication used to treat chronic obstructive pulmonary disease and to stop asthma episodes (COPD).
If you decide to pay in full with cash, look for online coupons to lower your out-of-pocket costs.
If you have prescription insurance, find out if Serevent is included in your carrier's formulary. If so, your co-pay might be significantly cheaper.
Because prices can vary depending on a number of factors, it is important to compare prices offered by different online pharmacy platforms and local pharmacies.
How does Serevent Inhaler work?
The bronchodilator Serevent is a long-acting beta2-adrenoceptor agonist (LABA). It functions by relaxing and expanding the muscles that surround the lungs' airways to promote breathing.
What to do if you miss a dose of Serevent Inhaler?
Use the missed dose as soon as you remember. Skip the missed dose if it is almost time for the subsequent dose. Use the subsequent dose at the scheduled time.
What if you overdose on Serevent Inhaler?
If you take too much of this medication, call your doctor or your area's local poison control center (1800-222-1222) straight away or go to the hospital for emergency care.
What effects does Serevent have on exercise?
It helps to relax the lung's airways and helps better facilitate exercise when taken 30 minutes prior.
How long for Serevent to leave your system?
When you stop taking medication, it takes around 12 hours to leave your system.
References:
How to Buy Serevent (Salmeterol) online?
People can buy Serevent (Salmeterol) by calling Offshore Pharmacy customer support, or by placing an online order at offshorecheapmeds.com. In addition, customer support is backed by a chat feature. For extra information, search on the "How to Order" page on offshorecheapmeds.com.
Is it possible to Get Serevent (Salmeterol) Online?
Yes, licensed medical practitioners may recommend Serevent (Salmeterol) online after a medical assessment. Patients can discuss with their online doctors to understand the disease/disorder and then the doctor will provide a prescription for the medication accordingly. Then, you can share the Rx with us via email, fax or upload the prescription to a licensed online Canadian pharmacy.
Is there a need for a prescription for Serevent (Salmeterol)?
Serevent (Salmeterol) is a drug that is sold only with a prescription provided by doctor. While processing the order for Serevent (Salmeterol), it is essential to get a valid prescription from the concerned doctor. The prescription may be scanned, emailed, or uploaded at Offshore Cheap Meds. Otherwise, we at Offshore Cheap Meds can also contact the concerned doctor to obtain a valid prescription.
How much amount can be ordered of Serevent (Salmeterol)?
The maximum quantity of Serevent that can be ordered online at a time is a 90-day supply. The quantity depends upon the directions and amount stated on the medical prescription. Refilling alternatives also come for future requirements.
Getting an order of Serevent (Salmeterol) online from Offshore Cheap Meds
Offshore Cheap Meds is a totally safe and secure way to order medications online. It works similarly to any other traditional pharmacy. Offshore Cheap Meds aims at serving safe and affordable prescription medication to people. You just only need to have your prescription from a licensed doctor.
Are there any coupons for Serevent (Salmeterol)?
Yes, Offshore Cheap Meds offer a coupon for Serevent (Salmeterol) with an additional discount to help people save money on medicines. Using the coupon code mentioned on the website, people can save several dollars on their medication. People must take care of the minimum order value. They can use the coupon at checkout to attain swift discounts, hence, they can pay less for their prescription.
Do Offshore Cheap Meds ship medications to the United States?
Yes. Offshore Cheap Meds deliver all around the United States of America. Once the product has been dispatched, an email notification is sent to the customer.
Is there any option for express shipping?
An express shipping alternative is obtainable. The delivery time is seven to twelve business days. People can check this alternative of Express shipping at the checkout page while processing the medication order.
How to refill a prescription?
Offshore Pharmacy make it easy to refill a particular medicine. By going to the reorder section of My Account tab, a person can easily put a refill alternative available online. For ordering a refill, call us or chat with customer support. Also, this live chat feature is one of the convenient ways to reach us while doing a refill order.
Is there any option of auto-refilling the prescriptions?
Offshore Cheap Meds does not automatically refill prescriptions. As it can be the case where a person no longer requires similar medication or the concerned doctor might go for dose adjustments or other factors. Yet, there is a refill reminder service available with us.