Norvir, a brand-name version of Ritonavir, is available by prescription in tablet form in different strengths. Norvir is an antiretroviral medication used along with other medications to treat HIV/AIDS. This combination treatment is known as highly active antiretroviral therapy. You can save on brand name and generic Norvir by filling prescriptions online at our Online Pharmacy.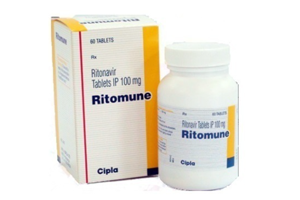 Select your dosage
Rx Prescription Required
Norvir (Ritonavir)
100mg
Check Prices
FREQUENTLY ASKED QUESTIONS (FAQs):
What is Norvir?
Norvir is an antiviral drug that contains ritonavir. The antiviral drug helps prevent the Human Immunodeficiency Virus (HIV) from replicating in your body. Norvir is used with other antiviral drugs in the treatment of HIV and prevents the possibility of developing Acquired Immunodeficiency Syndrome (AIDS). Currently there is no known cure for HIV or AIDS.
What are the uses of Norvir?
Norvir is used to control HIV along with other HIV medications. Ritonavir helps reduce the amount of HIV in your body and prevents constant replication of the virus. This boosts your immune system to work better and fight the virus. The drug also lowers your chance of developing HIV complications like cancer, new infections, and thereby improves your quality of life. Norvir is not the cure of HIV or AIDS. It helps prevent the spread and growth of HIV in your body. While taking Norvir, you will have to continue other HIV medicines as prescribed, continue using barrier method protection during all kinds of sexual activity, and avoid sharing personal items like needles, syringes, razors, toothbrushes, other items that may have blood or body fluids on them.
How to use Norvir?
Take this medicine orally with food
Confirm the dosage with your physician
Take the medicine at the same time daily
Do not chew, crush, or break the tablets
What are the side effects of Norvir?
Norvir has been known to show the following commonest side effects -
Nausea, vomiting
Stomach pains
Diarrhoea
Numbness or tingling in your hands, feet, or around your mouth
Fatigue, feeling weak or tired
Rashes on your skin
Changes in the shape or location of your body fat
What are the safety/warnings for Norvir?
Do not use this medicine if:
You are allergic to ritonavir
You have diabetes
You have a bleeding disorder like haemophilia
You have a heart disease like coronary artery disease or a heart
rhythm disorder
You have a liver disease like hepatitis B, hepatitis C
You have pancreatitis
You have chronic diarrhoea or malabsorption syndrome
You have a renal disease
You have Osteonecrosis caused due to either alcohol consumption,
corticosteroid use, severe immunosuppression or a higher body
mass index
You are an obese person
You have high blood lipid levels like high cholesterol or high
triglycerides
You consume alcohol on a daily basis
You are using marijuana (cannabis)
You are going to undergo a surgery within the next 2 weeks
You are planning to undergo a dental treatment
You are pregnant or planning to conceive
You are breastfeeding
Inform your physician about these variables before you begin taking this drug. Norvir is known to interact with most of these disorders and hence the dosage of the medicine will need to be changed or may need to be stopped.
How does Norvir work?
Norvir belongs to the group of drugs called protease inhibitors. It interferes with an enzyme known as protease and helps in controlling multiplication of HIV-infected cells. Protease is used by the HIV-infected cells to make new viruses.
What to do if you miss a dose of Norvir?
If you miss taking the usual dose, take the dose as soon as you remember.
If it is time for the next dose, avoid taking the missed dose and stick to the regular schedule.
Do not take a double dose.
Is there a Generic Norvir available?
Yes, the generic equivalent to Norvir is: Ritonavir.
Can I buy Norvir without prescription?
No, a valid prescription is required for this medication.
Safety and storage?
Store it at 25°C and out of reach from children.
Important
HOW TO USE THIS INFORMATION: This is a summary and does NOT have all possible information about this product. This information does not assure that this product is safe, effective, or appropriate for you. This information is not individual medical advice and does not substitute for the advice of your health care professional. Always ask your health care professional for complete information about this product and your specific health needs.