Lexapro, a brand-name version of Escitalopram, is available by prescription in tablet form in different strengths. Lexapro  is an antidepressant of the selective serotonin reuptake inhibitor class. Escitalopram is mainly used to treat major depressive disorder or generalized anxiety disorder. You can save on brand name and generic Lexapro by shopping online at our Online Pharmacy.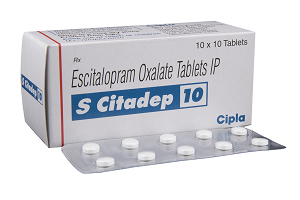 Select your dosage
Rx Prescription Required
Lexapro (Escitalopram)
5mg
Check Prices
Product of United Kingdom
Manufactured by Product of UK
Product of United States
Manufactured by Product of USA
Product of India
Manufactured by Cipla Limited
Lexapro (Escitalopram)
10mg
Check Prices
Lexapro (Escitalopram)
20mg
Check Prices
FAQs:
Why is Lexapro prescribed?
Escitalopram is prescribed for the treatment of Major depression and Generalized Anxiety Disorder in adults and in adolescents (12 to 17 Years). It decreases nervousness and gives feelings of well-being. But it should be taken without consulting your doctor as some people have suicidal thoughts after taking it the first time.
How should Lexapro medicine be used?
Lexapro should be taken once daily, in the morning or evening but try to take medicine at the same time each day, with or without food.
What if I miss the dose of Lexapro?
Try taking the missed dose as soon as you remember. Skip it if it is too late and nearing the time for your next dose. One should never take the extra quantity of medicine to make up the missed dose.
What are the side effects of Lexapro ?
The most common side effects of Lexapro are:
Nausea
Diarrhea
Constipation
Changes in sex drive or function
Drowsiness
Unusual sweating
Dizziness
Heartburn
If any of these symptoms seems to appear and the effect feels severe do not hesitate to consult the doctor immediately or seek medical help.
You should tell your doctor if you are taking any stimulant and opioid medicine, or medicine for depression also nonsteroidal anti-inflammatory drug (NSAID) for pain, arthritis, fever, or swelling. This includes aspirin, ibuprofen diclofenac, indomethacin, meloxicam, and others. Using an anti-inflammatory drug with Lexapro may make you prone to bruises and bleeding.
Alcohol - Consumption of alcohol may interact with Lexapro You may experience a headache, dizziness, and fainting.
A major drug interaction can occur if you have used Escitalopram within 14 days before and after of MAO inhibitors include rasagiline, selegiline, isocarboxazid and linezolid. Keep your doctor informed if you are allergic to escitalopram or citalopram.
Is Generic available for Lexapro?
FDA Approved the generic Escitalopram (Lexapro) on March 14, 2012, for treating Anxiety and depression-related disorders.
Can I buy Lexapro without prescription?
No, a valid prescription is required for this medication.
HOW TO USE THIS INFORMATION: This is a summary and does NOT have all possible information about this product. This information does not assure that this product is safe, effective, or appropriate for you. This information is not individual medical advice and does not substitute for the advice of your health care professional. Always ask your health care professional for complete information about this product and your specific health needs.