Crestor, a brand-name version of Rosuvastatin, is available by prescription in tablet form in different strengths. Crestor is a statin medication, used to prevent cardiovascular disease in those at high risk and treat abnormal lipids. You can save on brand name and generic Crestor by shopping online at our Online Pharmacy.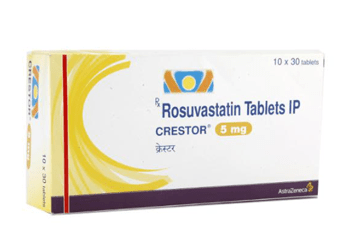 Select your dosage
Rx Prescription Required
Crestor (Rosuvastatin)
5mg
Check Prices
Product of Turkey
Manufactured by Ipr Pharmaceuticals
Product of Canada
Manufactured by Astrazeneca
Product of United Kingdom
Manufactured by Product Of UK
Crestor (Rosuvastatin)
10mg
Check Prices
Crestor (Rosuvastatin)
20mg
Check Prices
Crestor (Rosuvastatin)
40mg
Check Prices
FREQUENTLY ASKED QUESTIONS (FAQs):
Why is Crestor prescribed?
Crestor is prescribed medication used to lower the bad cholesterol and fats (LDL and triglycerides) and to increase the level of good cholesterol (HDL) in blood. It belongs to the class of drugs known as statins which slows down the build-up of plaque in the arteries by blocking the enzymes thus reducing the risk of heart disease or strokes. Crestor is prescribed when diet and exercise are not enough to bring the cholesterol level down.
Thus, along with diet and regular exercise, Crestor starts to show results as soon as two to four weeks after starting medication in lowering the bad cholesterol. However, every person has a different response to this medicine so the results may vary from one person to other.
How should Crestor medicine be used?
Crestor comes in the tablets of 5mg, 10mg, 20mg and 40 mg strengths. The dose of Crestor ranges from 5 mg to 20 mg per day based on certain factors such as age, medical condition, race and other drugs you are taking if any. It can be administered with or without food. It is advisable to take the medicine same time every day to maintain the time gap required to avoid overdose.
What if I miss the dose of Crestor?
You should try to take Crestor on all days till the treatment continues without fail. If you miss it try to take it as soon as possible. Do not take a double dose ever even if you missed one dose.
Always consult your doctor if you make any change in your dose knowingly or unknowingly. Mark your calendar with the dosing schedule as to do list.
What are the side effects of Crestor ?
Crestor may cause some unwanted effects like:
Muscle pain
High sugar levels
Nausea and dizziness
Memory loss
Feeling tired
Headache
Drug interaction with Crestor may or may not cause serious side effects. It is advisable to tell the doctor about what medications/supplements (including prescription/non-prescription/over the counter) you have been taking before starting on Crestor medication.
Always tell the doctor about any allergies you have. Do not take Crestor if you have a liver problem or any history of liver or kidney problems. If you are nursing, pregnant or may become pregnant avoid taking it.
Is Generic available for Crestor?
Yes, a generic version of Crestor, Rosuvastatin calcium is available in multiple strengths.
Can I buy Crestor without prescription?
No, a valid prescription is required for this medication.
Always keep the medicine in the box
Keep it tightly closed and out of reach of children and pets
Store the medicine at room temperature away from excess heat and moisture
HOW TO USE THIS INFORMATION: This is a summary and does NOT have all possible information about this product. This information does not assure that this product is safe, effective, or appropriate for you. This information is not individual medical advice and does not substitute for the advice of your health care professional. Always ask your health care professional for complete information about this product and your specific health needs.