Jardiance (Empagliflozin)
Jardiance, a brand-name version of Empagliflozin, is available by prescription in tablet form in different strengths. Jardiance is a medication used together with diet and exercise to treat type 2 diabetes. It can be prescribed instead of metformin and has benefits over sulfonylureas. You can save on brand name and generic Jardiance by shopping online at our Online Pharmacy.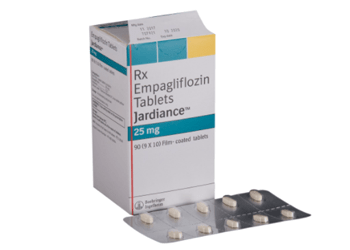 Select your dosage
Rx Prescription Required
Jardiance (Empagliflozin)
10mg
Check Prices
Jardiance (Empagliflozin)
25mg
Check Prices
FREQUENTLY ASKED QUESTIONS (FAQs):
Why Jardiace is prescribed?
Jardiance is a tablet used for controlling your blood sugar levels. It contains empagliflozin which helps regulate your blood sugar levels. This medicine is used with diet and exercise to improve the blood sugar levels in patients with type II diabetes mellitus. Empagliflozin is an SGLT2 inhibitor which inhibits the action of SGLT2 found in the kidneys.
How to use Jardiace?
Take this medicine once daily.
Follow the instructions as advised by your physician.
You can take this medicine with or without food.
Take Jardiance by mouth orally.
Swallow the medicine as a whole without chewing or crushing or breaking it.
Consult your physician if you have any doubts regarding the usage of this medicine.
Uses and Benefits of Jardiance
Jardiance is used to treat patients with type II diabetes mellitus and to control blood sugar levels. It should be used with dietary and lifestyle modifications along with an exercise regime to gain maximum benefits. Jardiance helps reduce the risks of developing cardiovascular complications.
What if I miss the dose of medicine?
Take the medicine as soon as you can, but skip the missed dose if it is almost time for your next dose. Do not take two doses at one time.
What are the side effects of Jardiace?
Jardiance has been known to show the following commonest side effects:
Female genital infections
Increased cholesterol levels
Increased creatinine levels
Increased urination
Dehydration
Fatigue
Fainting
Increased thirst
Low blood pressure
Orthostatic hypotension
Urinary tract infections
Upper respiratory tract infections
Joint pains
Nausea
The serious side effects of Jardiance include:
Hypoglycaemia - blurred vision, dizziness, drowsiness
Ketoacidosis - Nausea, vomiting, confusion, unusual drowsiness, trouble breathing, stomach pain
Hypotension - dizziness
Renal failure
Kidney infections like pyelonephritis - pain or burning while urinating, increased urination, fever
Consult your physician if you develop any of the above symptoms.
What are the safety/warnings/precautions for Jardiace?
You should not use Jardiance if you have severe kidney disease or if you are on dialysis, or if you have diabetic ketoacidosis.
Taking Jardiance can make you dehydrated, which could cause you to feel weak or dizzy (especially when you stand up).
What are the possible drug interactions?
Jardiance is known to react with the following medicines:
Insulin
Diuretic pills
Amlodipine
Carvedilol
Glimepiride
Lisinopril
Metoprolol
Losartan
Glipizide
Furosemide
If you are on any of the above medicines, consult your physician before you start taking Jardiance. Inform your physician about all your existing health conditions like heart disease, low blood pressure, kidney disease, liver disease, and bladder problems.
Is there a Generic Jardiace available?
No, the generic equivalent to Jardiace is not available in the United Sates.
Can I buy Jardiace without prescription?
No, a valid prescription is required for this medication.
Jardiance Discount Coupon and Saving Tips
We have exclusive Prescription Coupon for empagliflozin that can be used at checkout to get exclusive discount on Jardiace prescription, If you any problem on placing order with us, Kindly use Live chat feature or call +1 888 414 6679.
Important
HOW TO USE THIS INFORMATION: This is a summary and does NOT have all possible information about this product. This information does not assure that this product is safe, effective, or appropriate for you. This information is not individual medical advice and does not substitute for the advice of your health care professional. Always ask your health care professional for complete information about this product and your specific health needs.