Incruse Ellipta (Umeclidinium)
Chronic obstructive pulmonary disease (COPD), which includes chronic bronchitis, emphysema, or both, is treated with the long-term prescription drug Incruse Ellipta (Umeclidinium). It cannot replace a rescue inhaler or be used to treat respiratory emergencies.
It is used to treat and prevent lung illnesses' respiratory side effects, such as wheezing and shortness of breath.It works by enabling the muscles that restrict the airways to relax, allowing them to open and make breathing easier. It belongs to the group of drugs called anticholinergic medicines.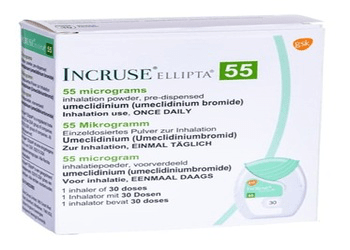 *Product images are for reference use only
Select your dosage
Rx Prescription Required
Incruse Ellipta
62.5mcg
Check Prices
Brand Incruse Ellipta 62.5mcg (55mcg)
Product of United Kingdom
Manufactured by Product of UK
FREQUENTLY ASKED QUESTIONS (FAQs):
Why is Incruse Ellipta prescribed?
Incruse Ellipta (Composition: Umeclidinium) is an anticholinergic that enhances breathing by relaxing the muscles in the airways. In adults with COPD (chronic obstructive pulmonary disease, which includes bronchitis and emphysema), it is used to avoid airflow restriction and lessen flare-ups. The prescription drug Incruse Ellipta is used to treat two indications and symptoms of COPD: chronic bronchitis and emphysema. Incruse Ellipta may be taken alone or in combination with other drugs. The medication Incruse Ellipta belongs to the pharmacological category of Anticholinergics, Respiratory.
Uses of Incruse Ellipta:
For the maintenance therapy of individuals with chronic obstructive pulmonary disease (COPD), Incruse Ellipta is recommended. It is used to treat and prevent symptoms of continuing lung disease (such wheezing and shortness of breath) (chronic obstructive pulmonary disease-COPD, which includes bronchitis and emphysema).
Side Effects of Incruse Ellipta:
Incruse Ellipta may cause serious side effects including:
Hives
Difficulty breathing
Swelling of your face, lips, tongue, or throat
Difficult or painful urination
Upper respiratory infection
Stuffy or runny nose
Cough with sore throat
Incruse Ellipta Dosage:
Incruse Ellipta (umeclidinium 62.5 mcg) should only be given orally in the form of one inhalation per day. The best scheduling time to take Incruse Ellipta is at the same time, each day, and should not exceed once per 24 hours.
How to use Incruse Ellipta?
Take this drug by mouth as directed by your doctor, often once a day.
Do not open the cap of the inhaler until you are prepared to use it.
Do not breathe into the device.
To reap the greatest benefits, use it at the same time every day to aid in memory.
Without first talking to your doctor, never stop taking the medication or alter, or stop using it altogether.
Drug Interactions of Incruse Ellipta:
Among the products that may interact with this drug are several anticholinergics (such as ipratropium, atropine). Never stop taking the medication or alter, or stop using it altogether without informing your doctor or physician.
Incruse Ellipta Precautions:
Inform your doctor or pharmacist if you have any drug-related allergies before using Incruse Ellipta.
The inactive constituents in this product, like milk proteins, may cause allergic reactions or other issues.
This drug should only be prescribed during pregnancy if absolutely necessary.
It is unknown if this medication passes from mother to child via breast milk.
Angina
Safety and Storage:
A foil strip with 30 blisters is included with each disposable light gray and light green plastic inhaler that contains Incruse Ellipta.
The inhaler comes packaged in a foil tray with a desiccant and a peelable top that protects against moisture.
Keep items between 68°F and 77°F (20°C and 25°C) at room temperature; excursions are allowed to 59°F and 86°F (15°C and 30°C).
The unopened moisture-protective foil tray should be used to store Incruse Ellipta, and the tray should only be taken out before the first use.
The inhaler is not refillable.
Incruse Ellipta Cost:
Depending on the pharmacy you go to, a supply of Incruse Ellipta 30 blisters of 62.5 mcg costs about $300 to $450. Due to a variety of reasons, the price of Incruse Ellipta fluctuates in neighborhood pharmacies and on online pharmacy platforms. The drug is conveniently available from OffshoreCheapMeds. It is a dependable and steadfast online pharmacy that operates around-the-clock.
How to lower long term Incruse Ellipta Cost?
Long-term treatment of chronic obstructive pulmonary disease (COPD), including chronic bronchitis, and emphysema is treated by Incruse Ellipta.
Look for online coupons to reduce your out-of-pocket expenses if you choose to pay in full with cash.
Check to see whether Incruse Ellipta is on your prescription insurance provider's formulary if you have one. If so, your co-pay might be considerably less expensive.
It is crucial to evaluate costs provided by various online pharmacy platforms and neighborhood pharmacies because pricing might change depending on a variety of factors.
How does Incruse Ellipta work?
It works by relaxing the airways of the lungs which facilitates easier breathing.
What to do if you miss a dose of Incruse Ellipta?
If it is almost time for your next dose, skip the missed dose and use the medicine as soon as you can. Never combine two doses at once.
What if you overdose on Incruse Ellipta?
Call your doctor or the local poison control center (1800-222-1222) right away if you take too much Incruse Ellipta, or go to the emergency room right away.
When is the best time to take Incruse Ellipta?
The best dosing is once daily and at the same time of the day, everyday.
What can you do about the sore throat from using Incruse Ellipta?
Always rinse the mouth after waiting 5 minutes, for severe sore throat, your physician might prescribe antibiotics and also do gargles.
What is better: Incruse Ellipta vs Spiriva?
Spiriva is not suited for everyone, thus Incruse Ellipta shows better response in tolerance and effectiveness.
References: