Desyrel , a brand-name version of Trazodone, is available by prescription in tablet form in different strengths. Desyrel is an antidepressant medication. It is used to treat major depressive disorder, anxiety disorders, and, with other medications, alcohol dependence. You can save on brand name and generic Desyrel by shopping online at our Online Pharmacy.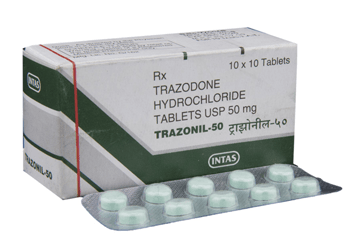 Select your dosage
Rx Prescription Required
Desyrel (Trazodone)
25mg
Check Prices
Product of India
Manufactured by Sun Pharmaceuticals
Desyrel (Trazodone)
50mg
Check Prices
Product of United States
Manufactured by Product of USA
Product of India
Manufactured by Intas Pharmaceuticals
Desyrel (Trazodone)
100mg
Check Prices
Product of United States
Manufactured by Product of USA
Product of India
Manufactured by Intas Pharmaceuticals
Desyrel (Trazodone)
150mg
Check Prices
Product of United States
Manufactured by Product of USA
FAQs:
Why is Desyrel (Trazodone) prescribed?
Desyrel is used to treat the symptoms of depression and some major depressive disorders. Trazodone works by regulating levels of serotonin (a neurotransmitter) in the brain, which may have been unbalanced due to depression sometimes causing anxiety and insomnia. This medication helps to improve behavior in a positive manner such as stable mood, improved sleep, appetite and interest in daily activities while reducing the symptoms of anxiety.
How to use Desyrel (Trazodone)?
Read carefully the medication guide provided by the pharmacist before starting any medication. Always follow the dose as directed by the doctor. Do not take more of it in quantity and for the longer duration without consulting your doctor. Your dose may change based on the current medical condition.
Desyrel regular tablet should be taken after a meal or snack to reduce lightheadedness and dizziness. However, extended-release tablets to be taken at the same time of the day, usually at bedtime without food.
What if I miss the dose of Desyrel (Trazodone) ?
You should take Desyrel on all days till treatment continues. If you miss the dose try to take it as soon as possible. Do not double dose at one time even if you missed one dose. Continue with the regular schedule from next dose onwards. Always consult your doctor if you make any change in your dose knowingly or unknowingly than prescribed quantity and duration.
Some common side effects of Desyrel are:
Insomnia
Dry mouth
Drowsiness
Nausea
Dizziness
Mood swings
Ringing in the ears
Constipation
Diarrhea
Blurred vision
Headache
Change in appetite
Swelling
Decreased sexual desire
Weight gain
Lightheadedness
Rare side effects:
Suicidal thoughts
Seizure
Tremors or shaking
Fainting
Difficulty breathing
Chest pain
Panic attack
Drug interaction with Desyrel (Trazodone) may cause serious side effects if consumed with other medications. Monoamine Oxidase Inhibitors (MAOI) should not be taken with Trazodone 14 days before or after the treatment with this medication.
It is important to tell your doctor about what medications/supplements including prescription, non-prescription, vitamins, herbal, and over-the-counter you have been taking before starting on Desyrel medication.
Talk to your doctor about any allergies you have or any planned surgery before starting treatment with Trazodone.
It may increase suicidal thoughts or actions in children or young adults during the first few months of treatment. They should be closely observed.
Alcohol should be avoided as it can worsen its side effects.
Is Generic available for this medicine?
Yes, the generic equivalent to Desyrel is: Trazodone.
Can I buy Desyrel without prescription?
No, a valid prescription is required for this medication.
Keep it away from moisture and heat
It is advised to store the medicine at the room temperature
Keep it out of reach from children and pets
HOW TO USE THIS INFORMATION: This is a summary and does NOT have all possible information about this product. This information does not assure that this product is safe, effective, or appropriate for you. This information is not individual medical advice and does not substitute for the advice of your health care professional. Always ask your health care professional for complete information about this product and your specific health needs.