Chantix/Champix (Varenicline)
Chantix / Champix, a brand-name version of Varenicline, is available by prescription in tablet form in different strengths. Chantix / Champix is a prescription medication used to treat tobacco use disorder. It both reduces craving for and decreases the pleasurable effects of nicotine from cigarettes and other tobacco products. You can save on brand name and generic Chantix / Champix by shopping online at our Online Pharmacy.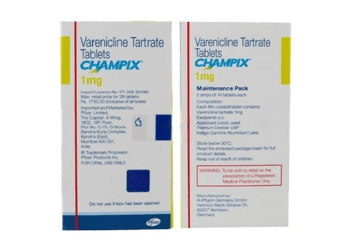 Select your dosage
Rx Prescription Required
Chantix/Champix (Varenicline)
0.5mg
Check Prices
Chantix/Champix (Varenicline)
0.5mg/1mg
Check Prices
Product of Canada
Manufactured by APOTEX INC
Chantix/Champix (Varenicline)
1mg
Check Prices
FAQs:
What is Chantix/Champix used for?
If you have a habit of smoking 10 or more cigarettes a day, your physician would possibly advise using a prescription drug as well as nicotine replacement therapy (NRT). Chantix is the brand name for Varenicline. It is an FDA approved medicine to assist people with smoking cessation. Chantix directly binds to nicotinic receptors to put off withdrawal signs. Managing disagreeable sensations like loneliness, strain, sadness, fear, and nervousness are some of the most frequent rationales of why individuals smoke. When you have an awful day, it may appear like cigarettes are your only companions. No doubt cigarettes provide you a calm feeling, but it terribly harmful for your health. Don't let cigarettes become a part of your life.
How should Chantix/Champix medicine be used?
Chantix comes as a 0.5 mg as well as 1 mg oral tablet. It can be initiated at 0.5 mg once every day for the first 3 days and then augmented to twice every day for the next 4 days. Then, it is taken as 1 mg twice daily for 12 weeks. Chantix is initiated one week before the selected quit date. Champix or Chantix must be taken after meals with a glass full of water. For patients who have effectively terminated smoking at the end of 12 weeks, an extra course of 12 weeks treatment with Champix is advisable to further enhance the chance of chronic abstinence.
What if I miss the dose of Chantix/Champix?
In case of missed dose of Chantix, take it the moment it is possible, but skip out the missed dose if it is almost the time for your next dose. Never take two doses at one time.
What are the side effects of Chantix/Champix ?
The common side effects of Chantix may include nausea (may continue for numerous months), shortness of breath, vomiting, constipation, sleeping problems, abnormal dreams, and heartburn.
Do not take any asthma drugs such as Theophylline or Insulin in combination with the Champix tablet.
If you have a history of depression or mental illness, then do not take this medication.
Avoid the use of Chantix in case of a history of heart disease or any other circulation problem.
Do not take alcohol while taking this medication as Chantix can add to the effects of alcohol or alter the way you react to it.
The use of this medicine is not permitted for use by anybody younger than 18 years of age.
Reward yourself. Strengthen your victories. Whenever your success over a smoking desire, give yourself a prize to stay motivated.
Escape from an alluring condition. Where you are or what you're doing maybe eliciting the longing for smoking. If so, a transformation of surroundings can make all the variation.
Is Generic available for Chantix/Champix?
No, currently there is a medically equivalent version of varenicline unavailable in the market.
Can I buy Chantix/Champix without prescription?
No, a valid prescription is required for this medication.
It is suggested to store the drug at room temperature that too away from heat, light and moisture.
HOW TO USE THIS INFORMATION: This is a summary and does NOT have all possible information about this product. This information does not assure that this product is safe, effective, or appropriate for you. This information is not individual medical advice and does not substitute for the advice of your health care professional. Always ask your health care professional for complete information about this product and your specific health needs.
---