Allegra, a brand-name version of Fexofenadine, is available in tablet form in different strengths. Allegra is an antihistamine pharmaceutical drug used in the treatment of allergy symptoms, such as hay fever and urticaria. You can save on brand name and generic Allegra by shopping online at our Online Pharmacy.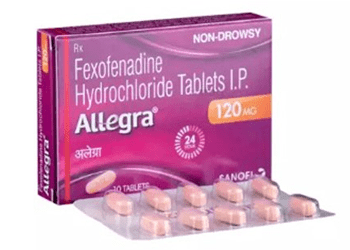 Select your dosage
Rx Prescription Required
Allegra (Fexofenadine)
120mg
Check Prices
Product of India
Manufactured by Unichem Laboratories
Allegra (Fexofenadine)
180mg
Check Prices
Product of India
Manufactured by Unichem Laboratories
Allegra or Generic Fexofenadine Uses, Dosage & Side effects
Allegra is the trade name for medication, Fexofenadine. It is a very potent medicine used in the treatment of seasonal allergic rhinitis (sneezing, watery eyes, clogged nose, and an aching, irritating throat).
How does it work?
It belongs to the class of medications called antihistamines used for lowering the effect of natural histamine in the body. This histamine gives rise to signs including runny nose, watery eyes, sneezing, itching, etc.
How to use Allegra?
The most suggested dose for children between the age group of 12 years and above and adults is 60 mg two times or 180 mg one time every day with water (for treating seasonal allergic rhinitis and chronic urticaria). For treating Seasonal Allergic Rhinitis, the dose is 30 mg (5 ml) of the oral suspension of Allegra for the children between the age group of 2-11 years, twice every day.
What happens if you miss a dose of Allegra?
In case you miss the dose of Allegra, you must consume it the moment you remember about it. If it is the time for your subsequent dose then you may skip the missed dose and take your regular dose. In any case, an additional dose must not be consumed to make up for the missed dose.
Side effects:
The most common side effects that may occur after using this medicine may include certain allergic reactions such as hives, inflammation on lips, face, tongue, throat, breathing problems, etc.  In addition to this, some of you might also face the following side effects including nausea, diarrhea, stomach upset, headache, fever, chill, body ache, cough, back pain, chest tightness and redness on the face. The immunity from a particular disease differs from individual to individual for the same medicine and as a result, the tolerance power also differs.
Drug-Drug Interactions:
It is very important to talk to your physician if you are taking any drugs that are making you feel drowsy such as:
other cold and allergy drugs
antifungal medicines such as Ketoconazole
muscle relaxants
opioid analgesics
antibiotics such as Erythromycin
sleeping pills
What are the precautions measures to be implemented while taking the Allegra tablet?
In case your body is showing hypersensitivity reactions such as respiratory issues, hives, etc. you must discontinue the use of Generic Fexofenadine and discuss with your medical advisor before the condition becomes worse.
If you are already taking any vitamin or herbal product or even recommended medications, then you should not begin taking Allegra without the doctor's consent.
Allegra might have an influence on an unborn baby. Thus, if you are pregnant or planning to be pregnant, then you must check with your physician for the use of this medicine.
You must avoid the intake of fruit juices (apple, orange) and antacids while using Allegra tablet as it makes the body harder to assimilate the drugs.