zovirax, a brand-name version of Aciclovir, is available by prescription in tablet form in different strengths. zovirax is an antiviral medication. It is primarily used for the treatment of herpes simplex virus infections, chickenpox, and shingles. You can save on brand name and generic zovirax by filling prescriptions online at our Online Pharmacy.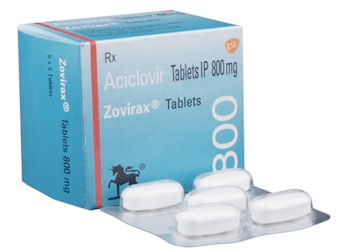 Select your dosage
Rx Prescription Required
Zovirax (Aciclovir)
0.05%
Check Prices
Product of United States
Manufactured by Product of USA
Zovirax (Aciclovir)
5gm
Check Prices
Zovirax (Aciclovir)
200mg
Check Prices
Product of United States
Manufactured by Product of USA
Product of India
Manufactured by Cipla Limited
Zovirax (Aciclovir)
400mg
Check Prices
Zovirax (Aciclovir)
800mg
Check Prices
Zovirax or Generic Acyclovir Uses, Dosages, Side effects
Zovirax is used in combination with other HIV drugs to help control HIV infection. It helps to treat viral infections such as chickenpox and shingles; cold sores, genital herpes, and other herpes simplex infections.
How does Acyclovir work?
Acyclovir is an antiviral medicine majorly indicated in the treatment of herpes zoster infection. It is selectively acted upon by the viral thymidine kinase. The enzyme phosphorylates Acyclovir to a monophosphate. The acyclovir monophosphate (acyclo-GMP) is then transformed to acyclovir triphosphate (acyclo- GTP) with the help of human enzymes. Acyclo-GTP is a potent inhibitor viral DNA polymerase in comparison to human DNA polymerases. As a result, viral replication gets selectively blocked in the infected cells.
How to take Zovirax?
Take Zovirax orally with or without food as per your physician's advice, usually once daily. The dose depends on your medical condition, kidney function, and response to treatment. To help you keep in mind, take Zovirax at the same time on a daily basis. If you experience stomach uneasiness, you may consume Acyclovir following food consumption. It is must take ample amount of water while being treated with this drug.
What to do in case you miss a dose of Zovirax?
If you miss a dose of Zovirax, take it as soon as you remember. If it is near the time of the next dose, skip the missed dose. Take your next dose at the regular time. Do not double the dose to catch up.
What are the side effects of Acyclovir?
The most common side effects associated with Zovirax may include back pain, fever, headache, dizziness, loose stools, insomnia, nausea, vomiting, skin irritation, itching, general weakness, diarrhea as well as abdominal pain Rash, itching or hives on the skin, swelling of your face, lips, tongue or other parts of the body, breathing problems, and wheezing.
Drug Interactions:
The drugs that are known to interact with Zovirax include: Probenecid, used to treat gout; Mycophenolate mofetil, used to stop your body from rejecting transplanted organs; as well as Cimetidine, used to treat stomach ulcers.
Precautions:
• If you are allergic to Acyclovir or any of the other ingredients of this medicine; then do not take this medication.
• During pregnancy, Zovirax must be used only when clearly instructed. Treatment can minimize the risk of passing HIV infection to your baby, as well as Acyclovir may be part of that treatment; thus it good to always talk about the risks and benefits with your physician.
• Patients above the age of 65 years must strictly avoid taking this drug.
Zovirax is also thought to pass into the breast milk. Consult your practitioner before breast-feeding. If you have HIV infection, it is strictly advised not to breast-feed as breast milk can transmit HIV.
• If you are suffering from kidney disorders, then also it is good to refrain from the use of Zovirax.