Eliquis, a brand-name version of Apixaban, is available by prescription in tablet form in different strengths. Eliquis is an anticoagulant medication used to treat and prevent blood clots and to prevent stroke in people with nonvalvular atrial fibrillation. You can save on brand name and generic Eliquis by using Eliquis coupon at our online pharmacy.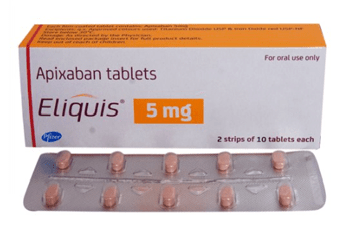 Select your dosage
Rx Prescription Required
Eliquis (Apixaban)
2.5mg
Check Prices
Product of India
Manufactured by Product Of India
Eliquis (Apixaban)
5mg
Check Prices
Product of India
Manufactured by Product Of India
FREQUENTLY ASKED QUESTIONS (FAQs):
Why Eliquis is prescribed?
Patients with an irregular heartbeat are more prone to develop serious blood clots. Since part of their heart does not beat in a normal way; it leads to the formation of blood clots in the lungs and legs. Also, they are more at risk of getting a stroke. For this reason, Eliquis (Apixaban) is prescribed to patients who just had hip or knee replacement surgery to prevent them from forming blood clots. Also, this medication is very helpful in treating deep vein thrombosis-DVT and pulmonary embolism.
How to use Eliquis?
This medication needs to be taken by mouth with or without food as directed by your doctor. Usually, this medication is taken twice a day. If you have difficulty swallowing the whole tablet, you can crush it and mix it with water or apple juice and take it immediately.
Depending on your medical condition, age, weight, and response to treatment, the doctor may change your medication occasionally. Never stop the medication unless your doctor tells you to do so. Stopping Eliquis immediately may put you at the risk of a blood clot or stroke.
What if I miss the dose of medicine?
In case you have missed the dose, take it immediately as you remember. Consume your next dose at the fixed time. If there is a fewer gap between the missed dose and the next dose, it is better to skip the missed dose. It is always recommended to follow proper medication schedule. Only by doing so, you can avail the most benefit from it.
What are the side effects of Eliquis?
The side-effects of Eliquis (Apixaban) are:
Nausea
Easy bruising
Unusual pain/swelling/discomfort
Coughing up blood
Dark urine
Severe headache
Dizziness
Weakness
Call your doctor at once if you notice any serious allergic reaction to this drug. Please note that the doctor has prescribed this medication because he or she has judged its benefits more for you than its risks.
What are the safety/warnings for Eliquis?
Tell your doctor if you have kidney or liver disease, blood disorder or recent surgery. Because this medication may cause you to bleed easily, it needs to be taken with extra case. Also, if you are pregnant or planning pregnancy, it must be taken only when necessary.
What are the possible drug interactions?
It is always recommended to inform your doctor in case you are taking any other drug. Sometimes, certain medications may interact and prove to be harmful.

There are several drugs with which anticoagulant Eliquis may interact. To name a few, mifepristone, warfarin, enoxaparin, fluoxetine, venlafaxine, etc. Some medications also cause the removal of apixaban from the body, which definitely affects the way this medicine works. So please be careful and keep your doctor informed.
Is there a Generic Eliquis available?
Yes, the generic equivalent to Eliquis is: Apixaban.
Can I buy Eliquis without prescription?
No, a valid prescription is required for this medication.
Safety and storage?
Store it at 25°C and out of reach from children.
Important
HOW TO USE THIS INFORMATION: This is a summary and does NOT have all possible information about this product. This information does not assure that this product is safe, effective, or appropriate for you. This information is not individual medical advice and does not substitute for the advice of your health care professional. Always ask your health care professional for complete information about this product and your specific health needs.