Anoro Ellipta Inhaler (Umeclidinium Bromide/Vilanterol)
Anoro Ellipta Inhaler, a brand-name version of Umeclidinium bromide / Vilanterol, is available by prescription in doses from different strengths. Anoro Ellipta Inhaler is a fixed-dose combination medication for treating chronic obstructive pulmonary disease. It is administered by inhalation. You can save on Anoro Ellipta cost by shopping online at our Online Pharmacy.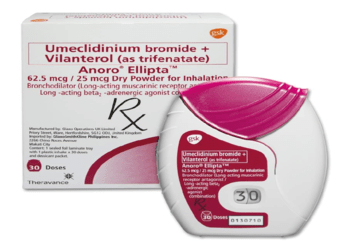 Select your dosage
Rx Prescription Required
Anoro Ellipta Inhaler 
62.5mcg/25mcg
Check Prices
Brand Anoro Ellipta 62.5mcg/25mcg (55mcg/22mcg)
Product of New Zealand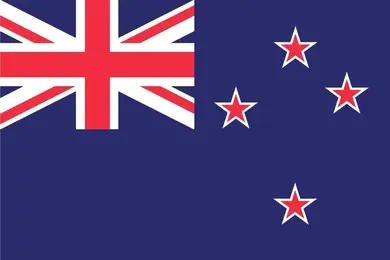 Manufactured by GlaxoSmithKline
Brand Anoro Ellipta 62.5mcg/25mcg (55mcg/22mcg)
Product of Turkey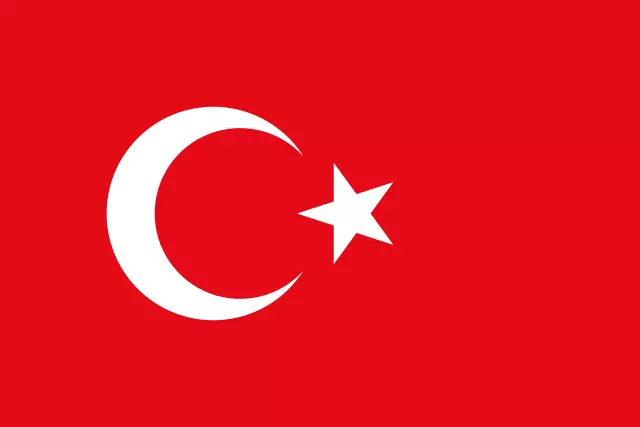 Shipped from Mauritus
Manufactured by GlaxoSmithKline
Brand Anoro Ellipta 62.5mcg/25mcg (55mcg/22mcg)
Product of United Kingdom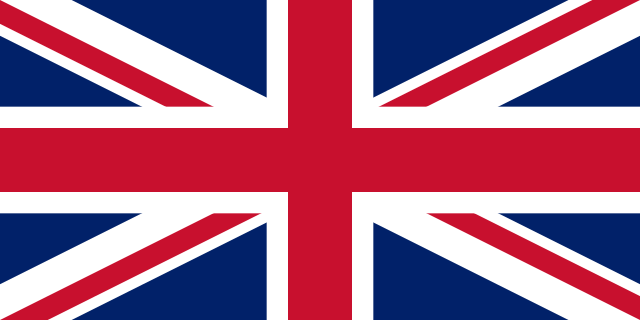 Manufactured by Product Of UK
FREQUENTLY ASKED QUESTIONS (FAQs):
Why is Anoro Ellipta prescribed?
A brand prescription drug called Anoro Ellipta is used to alleviate the signs and symptoms of Chronic obstructive pulmonary disease (COPD). It is a member of the pharmacological class known as Respiratory Inhalant Combos, Respiratory Anticholinergics, and Beta2 Agonists.
Anoro Ellipta is recommended for the treatment of patients with COPD. It is not advised to be administered for asthma. You can take Anoro Ellipta by itself or in combination with other drugs.
Uses of Anoro Ellipta:
This medication is intended to treat and prevent lung disease symptoms like wheezing and shortness of breath (chronic obstructive pulmonary disease-COPD, which includes chronic bronchitis and emphysema).
Umeclidinium and vilanterol are ingredients in the inhalation powder known as Anoro Ellipta. Both umeclidinium and vilanterol promote breathing by relaxing the muscles in the airways. Adults with COPD take Anoro Ellipta to avoid airflow restriction and reduce flare-ups.
Side effects of Anoro Ellipta:
Some common Anoro Ellipta side effects include:
Congestion, nasal discomfort, and sore throat.
Coughing and chest pain.
Constipation and diarrhea.
Muscular spasms
An ache in your arms, legs, or neck.
Some severe side effects of Anora Ellipta include:
Hives, difficulty breathing, and swelling of your face, lips, tongue, or throat.
Wheezing, choking, or other breathing issues.
Urinating more frequently, or in pain or difficulty.
Tunnel vision, eye pain or redness, blurred vision.
Increased hunger, thirst, dry mouth, and a fruity breath odor, other all signs of high blood sugar.
Leg cramps, constipation, irregular heartbeats, fluttering in the chest, numbness or tingling, muscle weakness, or a limp appearance are symptoms of low potassium levels.
Anoro Ellipta Dosage:
For treating individuals with chronic obstructive pulmonary disease, Anora Ellipta is recommended. Anoro Ellipta (umeclidinium/vilanterol 62.5 mcg/25 mcg) should only be administered by oral inhalation in the form of 1 inhalation once per day. Only one dose of Anoro Ellipta should be given every 24 hours, ideally at the same time.
How to use Anoro Ellipta?
As prescribed by your doctor, inhale this drug by mouth.
When ready to use the inhaler, open the cover before doing so.
You prepare a drug dose each time the cover is opened without breathing the drug and open and close the cap to lose the dose.
Wait to close the cover until you have inhaled the drug to prevent dose waste.
The medicine may or may not taste or feel good when you inhale it. Exhale away from the machine.
Drug Interactions of Anoro Ellipta:
While taking this medication, avoid utilizing other anticholinergic medications (like ipratropium and tiotropium) or LABA medications (like formoterol and salmeterol).Inform your doctor about all additional medications you are taking, especially:
Antiviral, antifungal, or other medication.
Beta-blockers
Medication for mental illness, mood disorders, anxiety, or depression.
Medication for allergies or colds (Benadryl and similar).
Medication for motion sickness, irritable bowel syndrome, or stomach issues.
Medication to treat an enlarged bladder.
Any other bronchodilator drug.
Anoro Ellipta Precautions:
Inform your doctor or pharmacist about your medical history or if you have any other allergies before using umeclidinium/vilanterol. Inform your healthcare in case of:
Heart problems (such as chest pain and irregular heartbeat)
High blood pressure
Seizures
Overactive thyroid
Diabetes, individual or family history of glaucoma (angle-closure type)
Difficulty urinating and high blood sugar (such as due to an enlarged prostate).
Safety and Storage:
It should be stored between 68°F and 77°F (20°C and 25°C) at room temperature. Keep your items dry and out of the sun and heat. Keep out of children's reach. Anora Ellipta needs to be kept in its sealed, moisture-protective foil tray and only taken out of it just before use. The inhaler cannot be used again.
Anoro Ellipta Cost:
Anoro Ellipta price can be between $425 and $500 for one inhaler (containing 60 blisters with 62.5 mg of umeclidinium and 25 mcg of vilanterol). The Anoro Ellipta cost can differ between pharmacies and places across the nation.
How to lower long term Anoro Ellipta cost?
Some of the highest Anoro Ellipta prices in the world are found in the United States. Even with medical insurance and copay, people in the USA still face the problem of high Anoro Ellipta costs. The reasons for this problem are complex and multi-faceted, but there are a few key factors that contribute to the high cost of medications.
One of the biggest factors contributing to the high Anoro Ellipta price in the US is the lack of price regulation. In most other developed countries, the government negotiates with pharmaceutical companies to set the price of medications. In the US, however, drug prices are set by the pharmaceutical companies themselves. This means that they can charge whatever price they want for their drugs, regardless of how much it costs to produce or how much it is sold in other countries.
Additionally, the lack of transparency in drug pricing is another major factor contributing to the high Anoro Ellipta cost in the US. Patients are often not aware of how much medication costs until they receive the bill. This can lead to unexpected costs that people may not be able to afford. Even with medical insurance and copay, patients may still have to pay a significant amount out of pocket.
OffshoreCheapMeds can provide Anoro Ellipta cost that is often lower than what people pay even with insurance and copay. We achieve this by sourcing medications from Certified and Reputable pharmacies, having partnerships with licensed pharmacies and distributors, operating online to keep overhead costs low, negotiating lower prices with manufacturers, and offering generic versions of medications so you can buy Anoro Ellipta online at the lowest possible price.
How does Anoro Ellipta work?
Anoro Ellipta works by loosening the muscles that surround your lungs' airways, which makes it simpler for you to breathe in and out. This aids in preventing symptoms, including wheezing, coughing, tightness in the chest, and shortness of breath.
What to do if you miss a dose of Anoro Ellipta?
If you forget, take the missed dose as soon as you remember. If it is almost time for the next dose, skip the missing dose. Take the next dose at the appropriate moment.
What if you overdose on Anoro Ellipta?
Call 911 if someone overdoses and exhibits significant symptoms like fainting out or difficulty breathing. Call a poison control hotline right away. If you're a US citizen, dial 1-800-222-1222 to get in touch with your neighborhood poison control center.
What is comparable to Anoro Ellipta?
Other varieties of combination inhalers or other groups of pulmonary inhalants which are comparable and reasonable alternatives to Anora Ellipta are Bevespi Aerosphere, Duaklir Pressair, Stiolto Respimat, etc.
Does Anoro Ellipta cause weight gain?
Anoro Ellipta users tend to gain weight, primarily if female, older than 60 and have used the medication for one to six months.
Does Anoro Ellipta contain steroids?
No, Anoro Ellipta does not contain steroids and is not a steroid (corticosteroid) drug. Umeclidinium, a long-acting muscarinic antagonist (LAMA, also known as an anticholinergic drug), and vilanterol, a long-acting beta2-agonist, are two inhaled bronchodilator substances that are present in Anoro (LABA).
References:
How to Buy Anoro Ellipta Inhaler (Umeclidinium bromide / Vilanterol) online?
People can buy Anoro Ellipta Inhaler (Umeclidinium bromide / Vilanterol) by calling Offshore Pharmacy customer support, or by placing an online order at offshorecheapmeds.com. In addition, customer support is backed by a chat feature. For extra information, search on the "How to Order" page on offshorecheapmeds.com.
Is it possible to Get Anoro Ellipta Inhaler (Umeclidinium bromide / Vilanterol) Online?
Yes, licensed medical practitioners may recommend Anoro Ellipta Inhaler (Umeclidinium bromide / Vilanterol) online after a medical assessment. Patients can discuss with their online doctors to understand the disease/disorder and then the doctor will provide a prescription for the medication accordingly. Then, you can share the Rx with us via email, fax or upload the prescription to a licensed online Canadian pharmacy.
Is there a need for a prescription for Anoro Ellipta Inhaler (Umeclidinium bromide / Vilanterol)?
Anoro Ellipta Inhaler (Umeclidinium bromide / Vilanterol) is a drug that is sold only with a prescription provided by doctor. While processing the order for Anoro Ellipta Inhaler (Umeclidinium bromide / Vilanterol), it is essential to get a valid prescription from the concerned doctor. The prescription may be scanned, emailed, or uploaded at Offshore Cheap Meds. Otherwise, we at Offshore Cheap Meds can also contact the concerned doctor to obtain a valid prescription.
How much amount can be ordered of Anoro Ellipta Inhaler (Umeclidinium bromide / Vilanterol)?
The maximum quantity of Anoro Ellipta Inhaler that can be ordered online at a time is a 90-day supply. The quantity depends upon the directions and amount stated on the medical prescription. Refilling alternatives also come for future requirements.
Getting an order of Anoro Ellipta Inhaler (Umeclidinium bromide / Vilanterol) online from Offshore Cheap Meds
Offshore Cheap Meds is a totally safe and secure way to order medications online. It works similarly to any other traditional pharmacy. Offshore Cheap Meds aims at serving safe and affordable prescription medication to people. You just only need to have your prescription from a licensed doctor.
Are there any coupons for Anoro Ellipta Inhaler (Umeclidinium bromide / Vilanterol)?
No, OffshoreCheapMeds doesn't offer a coupon but you can already find the lowest Anoro Ellipta price only on OffshoreCheapMeds.
Do Offshore Cheap Meds ship medications to the United States?
Yes. Offshore Cheap Meds deliver all around the United States of America. Once the product has been dispatched, an email notification is sent to the customer.
Is there any option for express shipping?
An express shipping alternative is obtainable. The delivery time is seven to twelve business days. People can check this alternative of Express shipping at the checkout page while processing the medication order.
How to refill a prescription?
Offshore Pharmacy make it easy to refill a particular medicine. By going to the reorder section of My Account tab, a person can easily put a refill alternative available online. For ordering a refill, call us or chat with customer support. Also, this live chat feature is one of the convenient ways to reach us while doing a refill order.
Is there any option of auto-refilling the prescriptions?
Offshore Cheap Meds does not automatically refill prescriptions. As it can be the case where a person no longer requires similar medication or the concerned doctor might go for dose adjustments or other factors. Yet, there is a refill reminder service available with us.