---
Coronavirus Updates (Live): Awareness, Facts, Myths, FAQ
As stated on the WHO website, "Coronavirus disease (COVID-19) is an infectious disease caused by a newly discovered coronavirus.
Most people infected with the COVID-19 virus will experience mild to moderate respiratory illness and recover without requiring special treatment. Older people and those with underlying medical problems like cardiovascular disease, diabetes, chronic respiratory disease, and cancer are more likely to develop serious illnesses.
The best way to prevent and slow down transmission is to be well informed about the COVID-19 virus, the disease it causes and how it spreads. Protect yourself and others from infection by washing your hands or using an alcohol-based rub frequently and not touching your face.
The COVID-19 virus spreads primarily through droplets of saliva or discharge from the nose when an infected person coughs or sneezes, so it's important that you also practice respiratory etiquette (for example, by coughing into a flexed elbow).
At this time, there are no specific vaccines or treatments for COVID-19. However, there are many ongoing clinical trials evaluating potential treatments. WHO will continue to provide updated information as soon as clinical findings become available."
Can the virus that causes COVID-19 spread through food?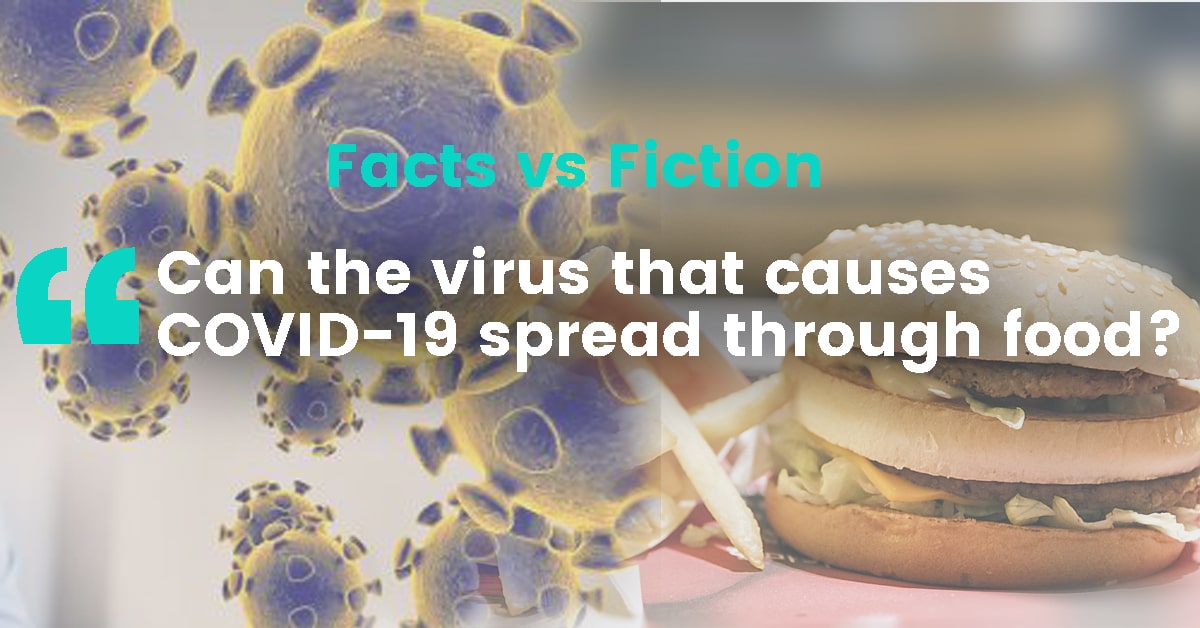 As per the CDC statement, Coronaviruses are generally spread through person-to-person contact. As per the past report, there is no evidence that transmission of COVID-19 is associated with food. Before preparing or eating food it's important to always wash your hands with soap and water for 20 seconds for general food safety. Also, many of us may be ordering take out from restaurants that are closed due to the coronavirus. The health department said there is no evidence that getting take out or drive through food will increase your chances of getting the coronavirus. Tennessee Department of Health said it safe because you are practicing social distancing.
Can coronavirus infect you through your eyes?
While coronavirus is typically spread through people breathing or ingesting virus particles from their mouth or nose, did you know it can also enter your body through your eyes?
According to the American Academy of Ophthalmology, another way the virus can be spread is by someone touching a surface containing the virus and then touching or rubbing their eyes.
Additionally, getting the virus in your eyes can exacerbate or start the infection of conjunctivitis — or pink eye — which the AAO says happens in about 1% to 3% of people with COVID-19.
(Source: https://www.wric.com/health/coronavirus/can-coronavirus-infect-you-through-your-eyes/)
---
Managing Anxiety And Stress During Coronavirus
(Recommendations from City of Berkeley Mental Health Division Manager, Steven Grolnic-McClurg, LCSW)
Berkeley, California (Tuesday, April 14, 2020) - The outbreak of COVID-19 creates concerns for all of us. It may prompt feelings of anxiety, worry, anger, difficulty sleeping and concentrating, and hyper-vigilance to your health and body.
The shelter-in-place order, while necessary to protect the health of our entire community, may bring challenges to the support systems we rely on in difficult times. Signs of stress are normal, and it is important to care for your own physical and mental health and reach out in kindness to those affected by the situation.
At this moment, staying home is the most important thing we need to do to protect our community. Coping with stress while staying at home will make you, the people you care about, and our community stronger.
Things You Can Do to Support Yourself
Be informed Understanding the facts about COVID-19 and the actual risk to yourself and people you care about can make an outbreak less stressful. Turn to trusted sources for information such as the CDC, WHO, or the City of Berkeley for accurate information. Share information with loved ones.

Take breaks Watching, reading, or listening to news stories, including social media, about the pandemic can be upsetting. Be sure to take a break from the news and engage in activities you find relaxing and enjoyable.

Take care of your body Take deep breaths, stretch, or meditate. Try to eat healthy, well-balanced meals, get plenty of sleep, and avoid alcohol and drugs. Exercise regularly while adhering to the need to practice social distancing. Residents can exercise in their home. Enjoy alone or with members of your household open spaces in large parks. Read about the parks and recreational facilities that can be used at this time and how to enjoy these spaces safely.

Connect with others. Talk with people you trust about your concerns and how you are feeling. Stay in touch with members outside your household through the phone, video chat, and other communication tools. If you or a loved one feels overwhelmed with emotions, see our mental health resources below.
Resources for Community, Crisis, or Peer Support
California Peer-Run Warm Line,855-845-7415Mental Health Association of San Francisco Non-emergency number for those feeling anxiety or seeking emotional support assistance available via webchat or phone.

24 Hour Crisis Support Line,800-273-8255Crisis Support of Alameda CountyTrained Crisis Line Counselors are available 24/7 to take your call. For those struggling with difficult life circumstances or uncomfortable thoughts and emotions. You do not need to be experienced suicidal thoughts or feelings to call.

Berkeley Mental Health Crisis Triage Line (510) 981-5244City of Berkeley Mental Health Division Speak to a local mental health professional for support and resources over the phone. The crisis line is open Monday through Friday 10:00 AM to 5:00 PM
Further reading from the CDC on coping with COVID-19
Take steps to care for yourself and your loved one's mental health and emotional needs at this time. Practice self-care. Remember that seeking support is a healthy thing to do.
Visit cityofberkeley.info/covid19 for additional information on COVID-19, recommendations from Berkeley Public Health, and changes to City services.
(This press release was produced by the City of Berkeley. The views expressed here are the author's own.)
The above content is originally produced by https://patch.com/california/berkeley/berkeley-managing-anxiety-stress-during-coronavirus