How To Save On Nexavar (Sorafenib Tosylate) Cost - Prescriptions Within Your Price Range
8/27/2020 3:48 AM
Nexavar generic medication is a kinase inhibitor drug used for the treatment of liver cancer, thyroid cancer, or kidney cancer. The recommended Nexavar dose is 200 mg orally, twice daily. This medication should be taken on an empty stomach, at least 1 hour prior or 2 hours after food.
Let us analyze, why is nexavar so expensive in USA and explore alternatives to buy nexavar online.
Why is Nexavar so expensive in the US?
The average Nexavar cost for an oral tablet of 200 mg is around $20,870 for a supply of 120 tablets, depending on the pharmacy you visit.
In a study, researchers found that the median monthly price for the drug across all available Medicare part D plans in 2014 was $10,811 per month, according to co-author Stacie Dusetzina, PhD, a UNC Lineberger member and assistant professor in the UNC Eshelman School of Pharmacy and UNC Gillings School of Global Public Health.
"This is obviously going to present financial challenges for many patients," Dusetzina said. Resulting in thousands of dollars in out-of-pocket costs for patients, Dusetzina said, as most plans require cost sharing of at least 25 percent when filling the drug's prescription. Even for patients who have reached the catastrophic spending level in Medicare Part D – when the amount they are expected to pay out-of-pocket decreases - they would still pay $540 per prescription fill each month.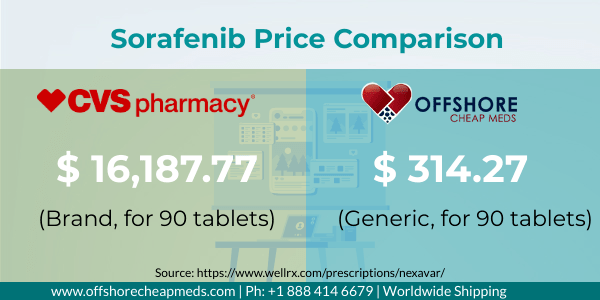 Why should you use Nexavar?
Nexavar is a single approved drug shown to offer patients a chance at longer life, especially for advanced cancer.
In the journal 'The Oncologist,' researchers showed evidence that the median survival for a group of Medicare patients on the drug sorafenib was three months, which was significantly lower than the median survival of nearly 11 months for patients treated with the drug during a phase III clinical trial.
What are the benefits of buying from an online pharmacy?
No more long waiting hours or any other inconvenient hassles that just pile up your stress or make you break those more important schedules that could ruin your plans.
Money saving tips on Nexavar?
Research on how to buy Low-cost Generic medications
Seek out pharmacies or online pharmacy websites that offer low-cost generic medications that can save you a lot of money, when compared to traditional prescription medications that cost very high due to its brand label.

Some retail chain – grocery stores have connections with wholesale distributers, which allow them to offer certain generic antibiotics for cheaper or even free. Look out for such retail drug stores.

Switch to an alternative or look out for discount options when you visit a pharmacy or a website

Request your pharmacist to contact your treating doctor if the prescribed medication is costly, so you can be prescribed with a cost-effective alternative.

Most online pharmacies offer coupon discounts on certain medications, especially if you can pay by cash. In some places you just need to carry your discount form with and scan the form with a code scanner at the counter in order for you to receive the discount.
Request for medication samples
In most cases, doctors themselves would hand you over a free sample from a new drug company that has just released their product out into the market. But sometimes if the doctor has had a busy day at office, its best to give a gentle reminder and find out for yourself.
So, it's always wise to check, if your doctor might have a free sample of the similar prescription that you may need for your treatment. Medications such as asthma inhalers, blood pressure medications, gastric acidity or even multi vitamins may be available in your doctor's desk lying around as free samples.
Educate yourself about insurance co-pays
Depending on your insurance coverage, prescription drugs may be tagged under a co-pay tier. Many plans may have a $10, $15 or $25 as a copay for generics (1st tier) or "preferred" drugs (2nd tier), and $35, $50 or even upto $100 copay on a particular brand name, or non-preferred drugs (3rd tier).
It is always a wise option to call your insurance helpline and check with them about the co-pay options for the drugs you have been prescribed. If you find that your prescribed drugs could create a hole in your pocket, immediately call your doctor and request for an affordable alternative.
References: